RECIPE
JFOODO Citation. Apple Fritter with Japanese Rice flour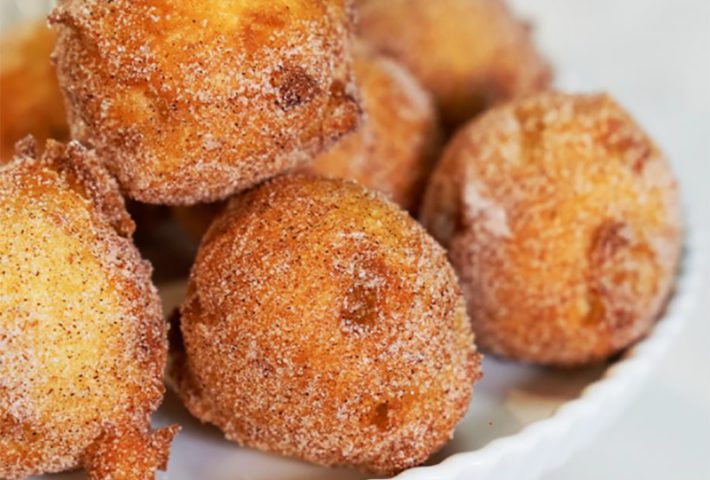 Time About 1.5 hours
Energy
Ingredients
Egg yolk 50g
Whole eggs 50g
Sour cream 450g
Milk 120g
Vegetable oil 25g
Vanilla extract 6g
Granulated sugar 150g
Japanese Rice Flour 525g
Salt 8g
Nutmeg – ground 2g
Baking powder 15g
Xanthum Gum 5g
Granny Smith apples • peeled and small diced 2 each
Granulated sugar 200g
Cinnamon – ground 5g
How to cook
1.Combine all wet ingredients and whisk until smooth.
2.Combine all dry ingredients and sift onto parchment paper.
3.Mix wet and dry ingredients together with a paddle attachment on a stand mixer on low speed for 5 minutes.
4.Fold in the apples. Rest the batter for 45 minutes to allow the starch to hydrate.
5.Using a #40 scoop, portion batter into 375°F Frying oil.
6.Flip fritters half way through the frying process.
7.When golden brown on both sides, remove from the oil and finish in the oven for 5 minutes or until fully cooked.
8.Combine cinnamon and sugar. toss hot fritters in cinnamon sugar mixture wile still hot from the oven.
Related Recipes
Search recipes
PRODUCT CATEGORY
RECIPE CATEGORY
COOKING TIME CATEGORY